Friday, November 18, 2005
Patrick Fitzgerald, People's Sexiest Man Alive, and My Own List
Special Prosecutor Patrick Fitzgerald's made
People Magazine's Sexiest People Alive
issue. When it comes to him, Clooney, Anderson Cooper and a few others,
People
has excellent judgment. ;)
But if it were up to
m
e, here's the winner's list - famous people only (plenty of unfamous sexy men and they shouldn't feel left out):
From Jamie in my favorite love story with a twist "
Truly, Madly, Deeply
" to the notorious Potter nemesis, Professor Snape, what's not to love about Rickman? He's the quintessential older leading man: suave, self-assured, sexy -- and that English accent. Oh. My.
Hands down the chameleon of Gen X actors, there's no part Johnny Depp cannot play. And well. I loved him in his bra and angora in
"Ed Wood."
Can't say that about many men. Which brings me to these two: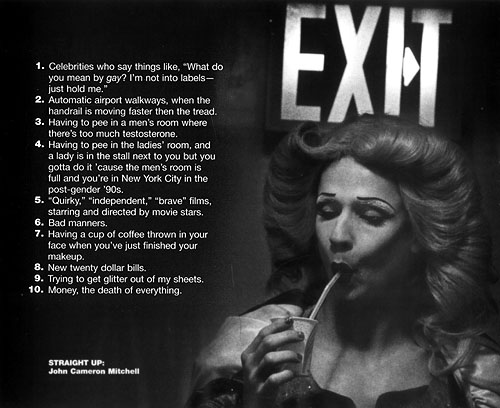 John Cameron Mitchell as Hedwig (click on the pic to see his least favorite things)




John Cameron Mitchell as John Cameron Mitchell


and



Stephen Trask
They brought to life the heart, words, lyrics and music of
"Hedwig and the Angry Inch"
. Aside from having terrific acting/directing and music careers, respectively, if they did nothing else than make that movie, it would be enough.
To be continued. . .